2023 – June

UPDATE! Ford Pro Commercial Vehicle Center
Olathe Ford Pro is up and running! The full-service 28,000 SF fleet management brand facility helps procure, maintain, and actively manage your fleet. Once again, congratulations to the Olathe Ford Lincoln team!
Attached is our REAL LIFE v RENDERING comparison.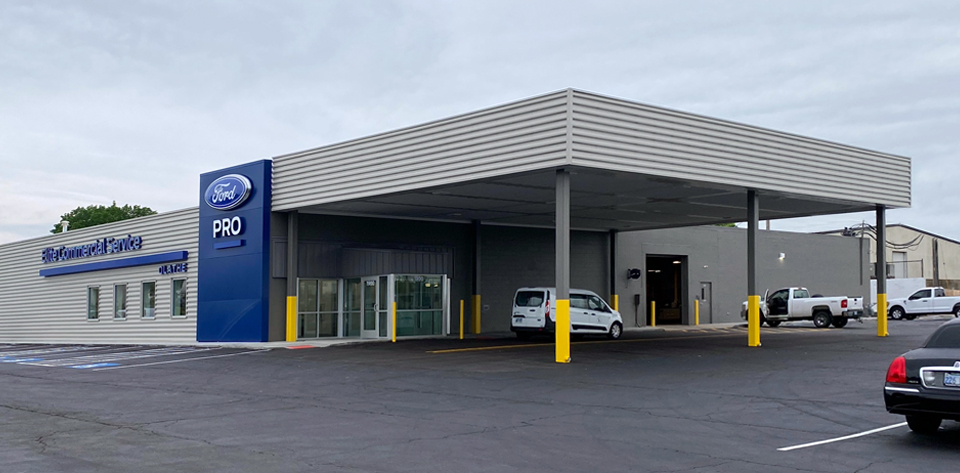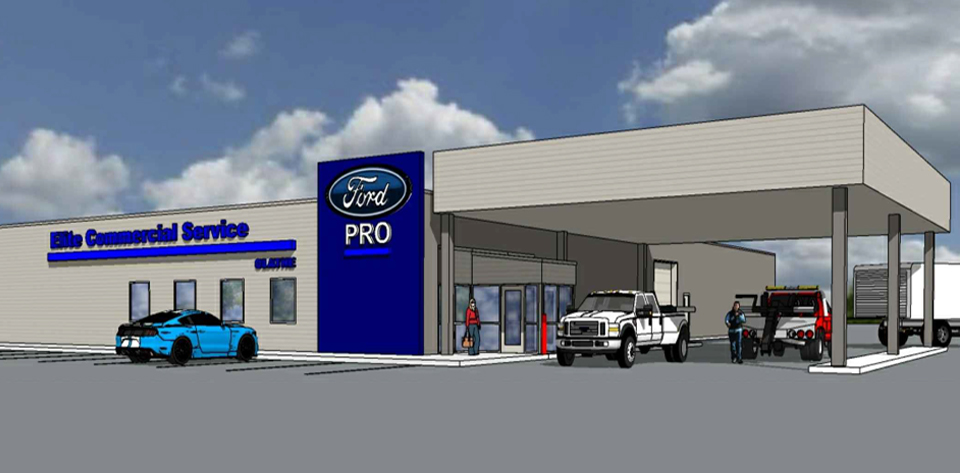 2022 – November



First State Bank & Trust
First State Bank & Trust is expanding its footprint in the Basehor, Kansas area, with a new facility being constructed at 153rd and Wolfcreek Parkway. This new location will house Financial Services for the Bank, and include several tenant spaces for new businesses. FSB&T has a commitment to personal service and growth alongside the Basehor community.
2022 – October



Jett Trucking Addition
Jett Trucking is growing FAST! This new building in Olathe, KS compliments their existing fleet of modern facilities. Jett Trucking is a premium refrigerated carrier providing high-quality truckload service in exchange for reliable, driver-friendly freight.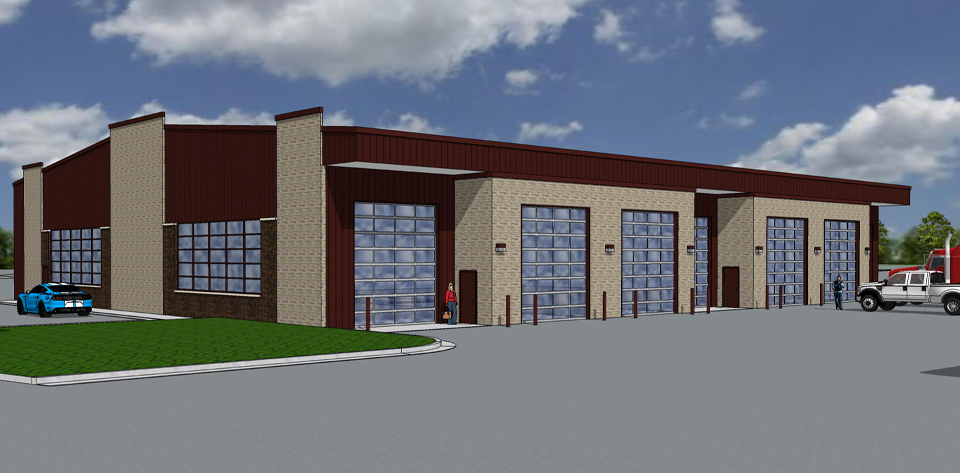 2022 – September



Ford Pro Commercial Vehicle Center
Our long time client Olathe Ford Lincoln is proud to announce Olathe Ford Pro. A full-service 28,000 SF fleet management brand facility that helps procure, maintain, and actively manage your fleet. Congratulations to the Olathe Ford Lincoln team. We are excited to be a part of this hometown project.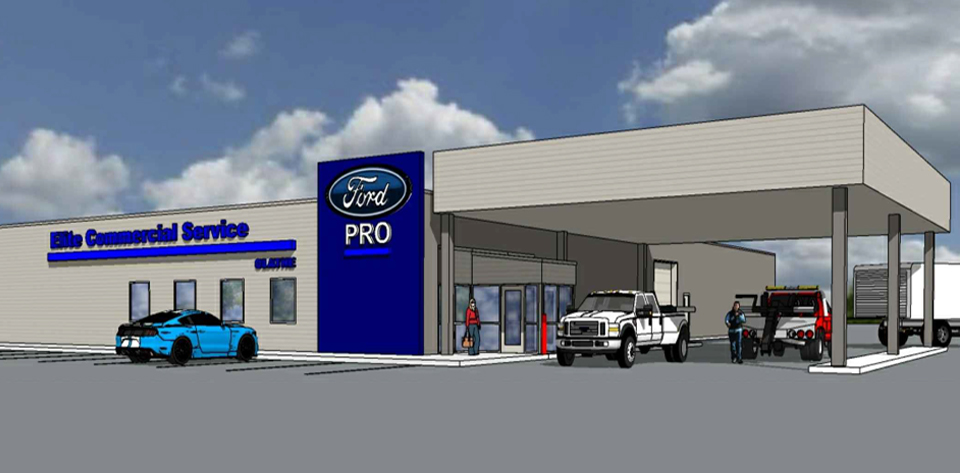 2022 – January



30 Years Later: The John Brunn Activity Center
The John Brunn Activity Center – Bethesda Lutheran Home in Olathe, Kansas looks as good today as it did during the ribbon cutting in 1989. We are proud to see our projects stand the test of time.
2018 – March



Mainstreet Credit Union Grand Re-Opening
Congratulations and recognition to Mainstreet Credit Union, located at 8245 State Avenue in Kansas City, Kansas, on their grand re-opening this week. The ribbon cutting ceremony included representatives from the Kansas City, Kansas Chamber of Commerce. Several members of the Board of Directors of the Credit Union were on hand to assist with the event. The facility has been located in KCK West for many years, but has just completed a total interior renovation courtesy of Lisbona Architects. Our firm was honored to be part of this opportunity and to continue our service to the Credit Union on this sixth design project to date.
2018 – March



Shawnee Mission School District Operations Facility
Lisbona Architects recently finished a new 55,000 SF Operations Facility for the Shawnee Mission School District located at 6445 Carter Avenue in Merriam, Kansas. It was a pleasure to work with Tyler Clubb, Assistant Director of Facilities for the school district, Construction Manager Rob Tinker of Manning Construction, and Palmer Welch, Project Field Superintendent, who worked diligently to see it all come together.
2015 – 2017



Gone Fishing
2014 – May



2014 Medallion Award for Excellence
The Kansas Preservation Alliance (KPA), is a statewide organization dedicated to the preservation of Kansas' heritage through education, art and architecture. The KPA Awards Committee and Board of Directors chose to award a 2014 Medallion Award for Excellence, for the Rehabilitation of the Manweiler-Maupin Chevrolet dealership in Hoisington, Kansas. Lisbona Architects, Inc. is proud to have been the Architect for this important and historic project.
Currently known as Manweiler Chevrolet, the facility is thought to be the oldest surviving example of a Streamlined Art Moderne Chevrolet automobile dealership from the early 1940's, in the State of Kansas. The award was presented to the Manweiler family during a reception at the Kansas Statehouse in Topeka, Kansas on Friday, May 9, 2014. The project involved Federal Historic Preservation Tax Credit, and Kansas State Rehabilitation Tax Credit.
2014 – March
General Motors Projects
Lisbona Architects is honored to have completed additions, remodels and brand update projects for the following General Motors dealerships over the past year:
Patterson Buick Cadillac GMC – Wichita Falls, Texas
Barnes Baker Chevrolet – Chillicothe, Missouri
Jim Falk Chevrolet – Clinton, Missouri
Manweiler Chevrolet – Hoisington, Kansas
Cable Dahmer Certified Used Cars and Body Shop – Independence, Missouri
Holm Chevrolet Buick Cadillac – Abilene, Kansas
Jim Clark Chevrolet Cadillac – Junction City, Kansas
Kindred Chevrolet – Smithville, Missouri
Lang Chevrolet – Paola, Kansas
Cable Dahmer Chevrolet – Kansas City, Missouri
2013 – August



Congratulations Executive Hills
Congratulations to Executive Hills Management for completion of the 40,000 SF+ LEED CI tenant finish project for the US Department of Education at the One Petticoat Lane Building in downtown KCMO. We were proud to be the architect on your development team.
Congratulations Olathe Ford Lincoln
Congratulations to Sam Mansker and Marc McEver (Owners of Olathe Ford Lincoln) on completion of their new Lincoln Brand Showroom. Our office was honored with the opportunity to be the architect for this prestigious project. Olathe Ford Lincoln is one of the largest and most successful dealerships in the midwest. Dedication of their new facility is scheduled for Thursday morning, August 22, 2013, at 11:00 AM.
2013 – January
Kiwanis Leadership News
Larry Lisbona is your acting President of the Olathe Sunrise Kiwanis Club for the calendar year 2012/2013. Kiwanis is a global organization dedicated to changing the world one child and one community at a time. Feel free to contact Larry for more information about Kiwanis, their programs and even how you and your business can help!