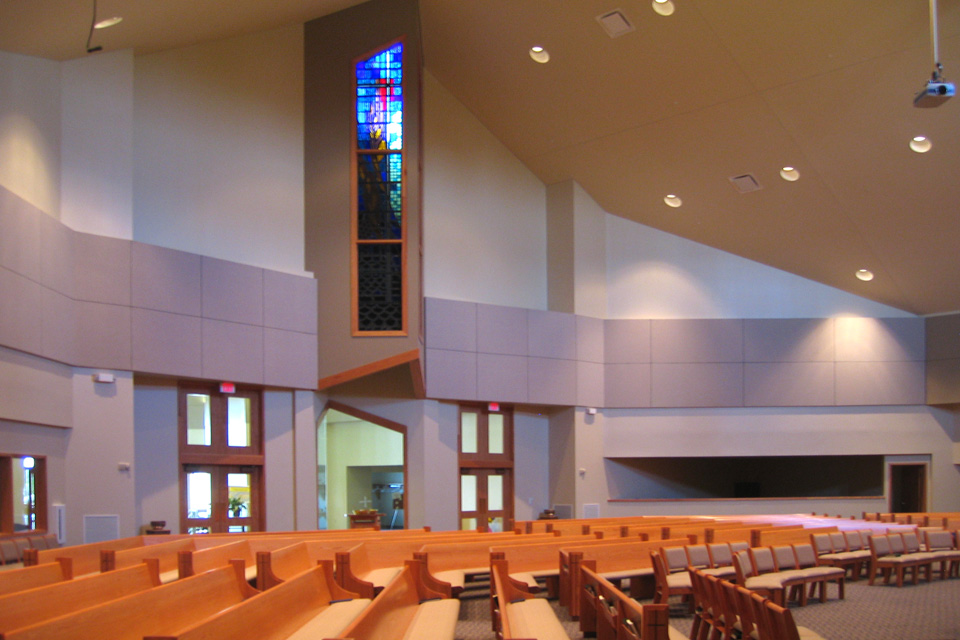 Holy Cross Lutheran Church
Overland Park, Kansas
The firm has completed three major projects with this client including their first phase worship facility, a subsequent education and fellowship addition, and finally their ultimate worship facility including administrative offices, classrooms and meeting spaces for theatre, drama, computer exploration and art. The facility includes a large kitchen, dining hall and elevator to allow circulation to several floor levels. The entire development follows our original master plan. Project size: Approximately 38,000 SF. Highlights: The current worship space includes relocation of custom stained glass panels taken from the original first phase worship facility. They are positioned at the rear of the worship space to filter direct sunlight.
Project Testimonial:
"As I sat in church yesterday and surveyed the facility we had built, it struck me I had not given much deserved credit where due. My husband David and I were involved with the design and construction of our church, Holy Cross Lutheran, from day one. As we began to work with Larry Lisbona, I immediately appreciated his prior experience complimented by his openness to new ideas we had. Any time a professional works with a non-technical volunteer group, it can be challenging. Larry and Chris always exhibited patience and good listening skills to gain concept ideas from the group, which led to a successful project. Now that we are living in our new space, I am even more convinced the design works efficiently due to the talent and decisions brought forward by Larry and Chris. As you can tell, I am very pleased with our overall experience with Lisbona Architects."
Ms. Teena Shouse
Building Committee Chair
Holy Cross Lutheran Church