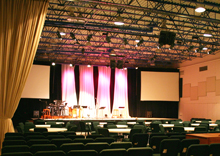 North Heartland Community Church
Kansas City, Missouri
This project involved extensive renovation and the addition of new space to an existing children's hospital to create a church facility. Existing treatment rooms were transformed into a large commons area, with existing patient rooms modified for use as classrooms and a nursery. New lighting and environmental systems helped in the successful adaptive re-use of the facility into a new, functional compliment to the residential neighborhood. Approximately 50,000 SF. Highlights: Transformation of a gymnasium into a contemporary worship center.